Graduate the Parelli Levels
Officially Pass Your Parelli Levels
Officially passing your Parelli Levels is a great way to progress through the Parelli Program and be awarded for your accomplishment! By filming an Audition or participating in a Live Assessment with a Certified Parelli Professional, you can officially pass your Parelli Level, showcase your progress through the Parelli Program, and demonstrate your overall savvy, skills, and relationship with your horse.
Often, students get stuck because they do not have a way to measure their progress. If this is you, it's easy to become uninspired and lack motivation. The Parelli Auditions & Live Assessments keep you engaged and progressive by giving you tasks and challenges to accomplish with your horse while celebrating your achievements at each level.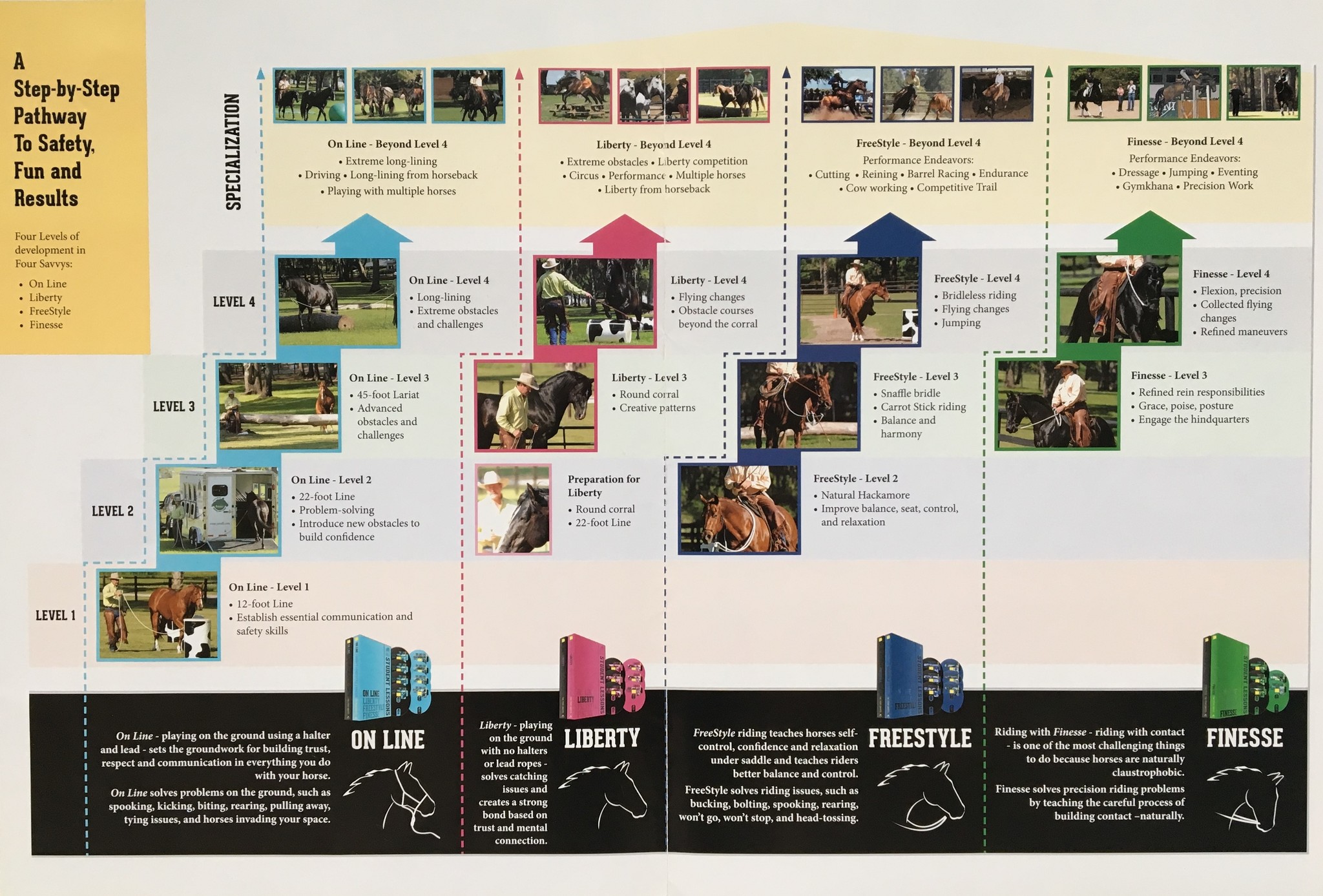 What Are Official Parelli Auditions?
Auditions are available for Parelli Students. They involve using the Seven Games to perform a few required compulsory tasks, but are also designed to allow you some free flow to use your imagination to show us what you can do with your horse.

Auditioning is one way to earn an official horsemanship certification in the Parelli Program. When all Savvy's are passed at each appropriate level, you are then awarded a unique colored Savvy String (much like the martial arts system with colored belts).

The Level you are looking to complete, will determine the number of auditions you need to submit for that Level. There is one audition per "Savvy", so only one audition is required for Level One. However, as you progress through the Levels, each becomes more challenging with more Savvy's. See a reference chart below:

Level One: On Line = Red Savvy String
Level Two: On Line + FreeStyle = Blue Savvy String
Level Three: On Line + FreeStyle + Liberty = Green Savvy String
Level Four: On Line + FreeStyle + Liberty + Finesse = Black Savvy String
How do I know when I'm ready to audition?
There is a detailed audition packet for each Savvy (i.e. On Line, Liberty, FreeStyle, and Finesse). Included in each detailed packet are step-by-step instructions on how to complete an audition, a full page of success tips, a self-assessment checklist, and scorecards.
Click below to download the PDF Audition Packet per Savvy.
How do I submit my audition to Parelli.com?
1. Simply complete the Self-Assessment Checklist for the appropriate Level and Savvy within the Audition Packs (downloaded from the buttons above).
Setup a camera (or ask a friend) to film your Audition—Making sure you include all the compulsory tasks
2. Purchase your Audition in the Parelli USA shop
3. Upon Checkout you will receive an automated email with a Unique code. *Please note: It may take up to 24 hours for your unique code to be emailed to you. If you do not receive it, be sure to check your spam folder.
4. Click on the link in the email and enter your unique code. This will "unlock" an audition that will be ready for you to submit your details for processing. Make sure you include the link to your Audition Video.
5. Although we make every effort to turn auditions around quickly, please allow up to 6 weeks for processing times.
6. Finally, know that we are rooting for you and wish you good luck! There is nothing that makes us more proud than seeing you succeed with your horse!
What Are Live Assessments?
---
Our second pathway to officially passing your Parelli Levels is by participating in a Live Assessment with a Parelli Professional. Following our Levels Assessments Checklists, you will complete a series of tasks and games live, in person with one of our certified instructors - no videoing required!
Live assessments offer you freedom and flexibility as you can showcase skills without time constraints or starting over. This allows you to focus on both the tasks required and nurturing a connection with your horse.  Plus, building a lasting relationship with a Parelli Professional is a huge benefit to your learning journey as they offer ongoing support, share knowledge, and provide mentorship throughout your Parelli education.
How do I Live Assess with an Instructor?
1.  Find a Parelli Professional near you who has successfully completed the Assessment training with Pat Parelli and is certified by Parelli Natural Horsemanship to assess in the field by visiting parelli.com/pages/licensed-parelli-instructors
In Belgium you can book a Live Assessment for Level 1 or Level 2 with Kim Moeyersoms, Mieke Lannoo or Nic De Winne. 
*At this time, Assessors can Live Assess Level 1 and Level 2 of the Parelli Levels Program.
To Audition or to Live Assess
You do not need to be a Parelli Learning Library member in order to audition. However becoming a member entitles you to many benefits that can help you along your horsemanship journey, so we highly encourage it.

The Parelli Learning Library is home to thousands of educational articles, inspirational videos, and Q&A's along with discussion walls and horsemanship tracking programs! As a member, you will have access to our Live Q& A's each month with a Parelli Professional, new videos & content added weekly, and member discounts within the Parelli Shop.