How can you determine the right size for your Cavallo Hoof boots?
The Benefits of Hoof Boots
Protecting your horse's hooves when it suits you and your horse. Aim for natural proportions and do not burden your horse with boots if this is not strictly necessary (grazing or other activities). Healthy hooves are essential, as enormous forces are exerted on the hooves, especially when galloping and jumping. Hoof boots do not impede the hoof mechanism in any way, and optimise the condition of the hooves. To start a transition to barefoot riding in all circumstances. Hoofs can become so strong that you can ride on hard and irregular surfaces without any problems. You can slowly get your horse's hooves used to this with hoof boots; the hooves will be able to become firmer and thus no longer wear out quickly. It goes without saying that such an objective can only be achieved with very regular riding on hard and irregular surfaces. In general, however, we need to protect our horse's hooves. After all, we too find it unpleasant to walk barefoot on gravel or pebbles.
Almost every horse benefits from the use of hoof boots, and it is specifically an ideal solution for horses with troublesome hoofs that cannot be shod. In all cases, it contributes to healing and pain relief. On an annual basis, you save on the cost of shoeing, while at the same time taking care of your horse's hooves in a very horse-friendly way! Shoed hooves limit hoof maintenance, while the use of hoof boots allows for any maintenance to be done at any time.
Why get rid of shoeing?
You feel an urge to handle your horse as naturally as possible.
Modern techniques have found a way to a good alternative.
A horse is not born with shoes, the concept of a horseshoe is purely established as "normal".
Are hoof boots heavy?
This varies enormously per manufacturer. The F.R.A. Cavallo farrier boots are relatively light and no heavier than the average horseshoe.
Do hoof boots always stay in place?
No, the risk of loss is relatively high and varies from model to model and from brand to brand.
How long do hoof boots generally last?
Many factors play a role here, with the intensity of use obviously being decisive. Generally speaking, experience has shown that the cost of buying hoof boots far outweighs the cost of shoeing, with the difference in purchase costs for each brand playing a decisive role. If you use the hoof boots on relatively soft ground, such as grass or loose sand, they will last longer than if you were to go for daily rides on asphalt. That makes sense ...
Just as with horseshoes, wearing out also depends on the position and rolling off of the foot. If your horse puts his feet down nicely "evenly", you get an even wear. If your horse walks in a crooked way, you will also see this on your hoof boots.
Are there different sizes?
Yes, you should always strive for an ideal fit. An incorrect fit will always cause problems.
Each brand has its own sizes. F.R.A. Cavallo hoof boots are available in different sizes.
Can you determine the size yourself?
Each brand of hoof boot uses its own measuring techniques; some cannot be measured, others can. The F.R.A. Cavallo hoof boots are very simple to measure; the most ideal measurement is taken after a hoof trimming. That is why the F.R.A. Cavallo size brochure is available.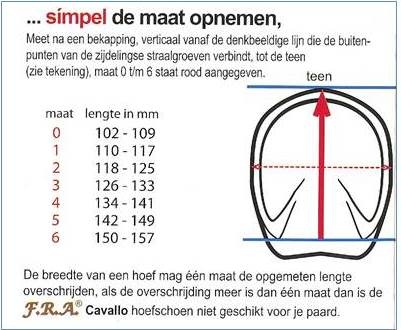 If you are unsure of yourself in this regard, feel free to drop by the shop with a "print" of the hoof. To do this, put the foot(s) of your horse on a piece of cardboard and draw the outline around it.
Are hoof boots suitable for every horse?
No, this cannot be said unequivocally. Hoof boots, no matter what brand, are less suitable or not suitable at all in cases where
your horse drags its feet; this obviously causes excessive wear to the sole.
your horse walks so closely that the boots slide past each other at every step; this causes extreme wear to the inner side of the boots.
The F.R.A. Cavallo boots specifically state that the width of the hoof may only exceed the length of the boot by a maximum of one size. If this is the case, then the F.R.A. Cavallo hoof boot is probably not suitable for your horse.
Are there optional protection options?
Not all brands offer these options, but F.R.A. Cavallo offers you extra options for special circumstances or to suit your own feelings:
Are hoof boots easy to put on and take off?
This varies from brand to brand. There are huge differences in the models, from pumps to good and less good "ski bindings". A very important feature of the F.R.A. Cavallo is the convenience of a front closure that opens the boot completely. This makes the boot very easy to put on and take off.
What are the specific disadvantages of hoof boots?
The boots of some brands are difficult to put on and take off.
Many models lose one or more boots relatively often during a ride.
Hoof boots are stiff; sliding stops, for example, are impossible.
The well-known clacking sound of shoes is gone.
What are the specific advantages of using hoof boots?
No weakening of the hoof.
The functioning of the hoof mechanism is not hindered.
Lower costs.
No vibration over the joints.
Use of hoof boots only when necessary.
Less injuries.
Most brands use shock absorbing material in the boots, together with the flexibility of the unshod hoof the shock absorption becomes optimal.
Hoof boots give more grip than shoes.
Some more details about F.R.A. Cavallo hoof boots
Cavallo hoof boots are constructed from durable materials: first quality leather, waterproof stitching, stainless steel velcro guides, the sole itself is made from the very high quality material thermo plastic urethane (TPU).
Built-in drainage slots prevent the boot from getting stuck in muddy places, the hoof boot is lightweight and shock-absorbent. The undisturbed functioning of the hoof mechanism results in optimal blood circulation, which optimises the growth of the hooves. The shoe is patented worldwide under number US 553.806S.
Measure easily!
The best way to measure is after a trimming, not including the frog. The size is determined by the imaginary connecting line that vertically connects the points of the lateral frog grooves to the toe.
Be sure to watch this video with practical information: 
It is easy to find the right size in the size chart.
We recommend that you also take the width measurement (see the red dotted line); this measurement may exceed the length measurement by one size. If this exceeds one size, then F.R.A. Cavallo Hoof Boots are not suitable for your horse.
The sizing of F.R.A. Cavallo hoof boots is designed to allow for the growth of the hoof between trims.
Please note that we can only exchange boots when they are undamaged, unused and perfectly clean!
Therefore, it is important to fit the shoes with a plastic bag around the hoof and to put your horse on a clean and flat surface.
As you are used to when wearing new shoes, hoof-boots will also need some time to "break in". It is advisable not to wear the boots for more than 20 minutes during the first few days. The leather will become more and more flexible through use and leather maintenance.
Different models Cavallo hoof boots
Cavallo Simple hoof boots sold per pair.
Cavallo Sport hoof boots sold per pair.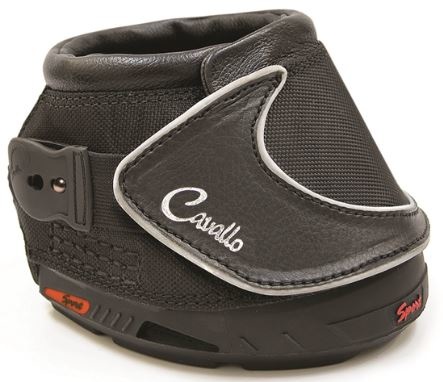 Cavallo Trek hoof boots sold per pair.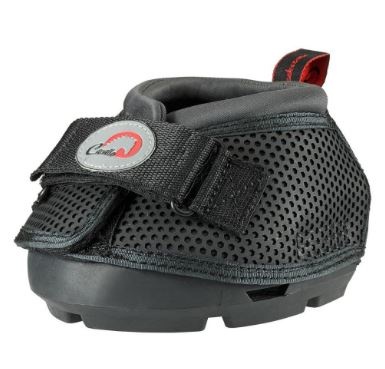 In addition, Cavallo also has hoof boots specifically for miniature horses, namely the Cute Little Boot.
In 2019 special hoofed shoes that can be used for horses WITH horseshoes were also introduced to the market! These are the so called transport-hoof boots that you can use for shod horses that kick off their shoes during transport or on the pasture.
The Cavallo pastern wrap is a wrap of super elastic reinforced high density foam for extra protection of the coronet and frogs in the hoof boot. This additional protection was specially developed to satisfy your feeling for extra protection. After all, we humans also tend to wear socks in our shoes for extra skin protection. Available in three sizes:
S: for hoof boot sizes 0-1
M: for hoof boot sizes 2-3
L: for hoof boot sizes 4-6
Open the wrap and place it around the hoof up to just below the frogs, the Cavallo logo remains visible on the outside. The Velcro closes the seam at the front.
Put on the boot as described above and Velcro the two flaps of the wrap on the flaps of the nose of the boot. You can also pull up the cuff a little at the back, if you feel comfortable doing so.
Follow the hoof boot instructions to close the shoe. See also:
Please note that pastern wraps are made of relatively light material and should be put on with care, given the strength of a horse's foot, in order to prevent damage to the wraps. Regularly clean the bandages to ensure the proper functioning of the Velcro strap.
Removable insoles for extra comfort. Easy to cut to size for your hoof boots.
The F.R.A. gel pads give your horse that extra bit of comfort. In addition, the pads give you the opportunity to ensure that your hoof boots fit as closely as possible in between trims.
Another overview of the different models of F.R.A. Cavallo hoof boots for unshod horses can be found in this video:
Cute Little Boots: the hoofs of minis, Shetland ponies and donkeys
The CLB hoof boots are made especially for your small pony or mini. They are available in standard or Bling styles.
You can easily determine which size you need by measuring the length and width of the hoof shortly after your horse or pony has been trimmed.
Measure after trimming, vertically from the imaginary line joining the outer points of the lateral frog grooves to the toe. Width is measured at the widest part of the hoof.
| | | |
| --- | --- | --- |
| Maat | Breedte | Lengte |
| M1 | 51 - 61 mm | 62 - 71 mm |
| M2 | 62 - 72 mm | 72 - 78 mm |
| M3 | 73 - 82 mm | 83 - 92 mm |
| M4 | 83 - 92 mm | 93 - 102 mm |
F.R.A. Cavallo: The World's Simplest Hoof Shoe!
That hits the spot, take the F.R.A. Cavallo hoof boots off your horse and head out, plain and simple, without the fear of losing them. Treat your horse to the benefits of a boot that makes you worry free even in extreme conditions, they connect you and your horse.