The Aleashop Managers
Olivier Teirlijnck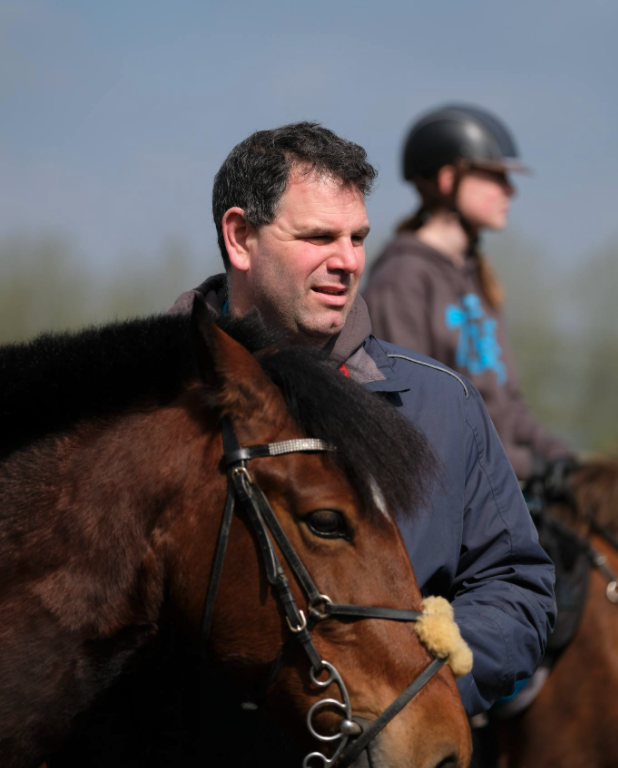 I joined the Aleashop team as:

manager & saddle fitter
My favourite Aleashop experience:
There are so many, but when you can help someone who is looking for something and that customer comes back later satisfied, those are nice moments. Not to mention the great atmosphere of the whole team that we can count on in the shop and during fairs and events.
I am active in:
TREC, driving, trekking, guiding,...
Most rewarded achievement:

TREC 1st place Cup of Belgium 2010, 1st place TREC Attelage (harnessed) 2012, plus numerous competitions or highlights where I was very proud of the performance of my horses... because it's not always the result that counts but above all the efforts made by our four-legged friends!
Facts:
I have been riding horses since I was 7 years old and after much trial and error I realised that the more you ride, the more there is to learn. So I took lessons and courses on a regular basis, and I obtained BLOSO Initiator American Art of Driving, Men's Brevet single and double carriage, Guide VVR -LRV (equestrian tourism), Packing School diploma (pack horse), Syntra saddle fitting, Level 2 Parelli.
I am chairman of the Flemish Association for Equestrian Tourism (recreational wing of the LRV) which means I am on the Executive Committee of the LRV. I am a member of the General Assembly of the Flemish Confederation of Horses, the Flemish Horse Centre and TREC Belgium. Through the Ruitertoerisme Committee of the KBRSF, I am also on the Board of Directors of the FITE (International Federation for Equestrian Tourism).
As a guide of the VVR-LRV I regularly guide groups, especially the Enter-VVR, the youth section of the trekking riders. Going on a trek with these youngsters is definitely a must. I also give training courses such as map reading (for the VVR Guides, Guides and for TREC initiations), as well as other equestrian courses. My motto is that it should be fun, safe but above all horse-friendly, and unfortunately a lot of people still need to work on that.
Kim Moeyersoms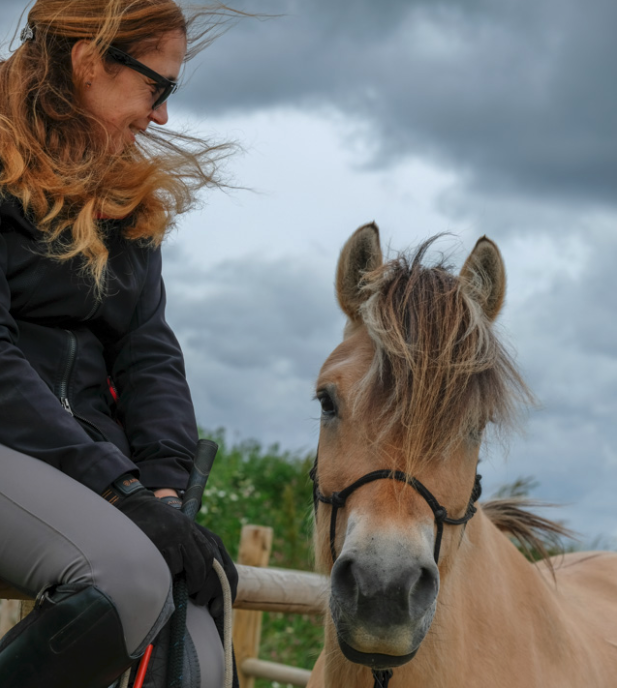 Besides my job as manager at Aleashop, I am a 3* Parelli Instructor.
In a not so distant past, I was also a teacher in "Stress-Free Horse" at Syntra West & Syntra Midden-Vlaanderen and a freelance equestrian journalist for CAP, VVR Magazine, EquiTime and Hippo TV, among others...

You can read more about it on my website Paardenmanieren.
I started riding at the age of seven, but it was only about ten years later that I realised that riding was all I had learned at the riding school. How horses think, what motivates horses, how we can handle horses better and safer, I learned all this thanks to Parelli Natural Horsemanship.
Together with my fjord Kenzo (alias the SF, SuperFjord) I have since given many "paardenplezier" (horse fun) demos at home and abroad. Over the years, I have probably hiked a few thousand kilometres on horseback. I am also active in the TREC competition, first with Kenzo, then with my Arabian Andes and maybe soon again with my young fjord Orrie. 
My favourite Aleashop experience:

I especially like the interaction between the shop and my passion for teaching: at the Aleashop I meet new horse lovers almost every day whom I can introduce to Parelli Natural Horsemanship. On the other hand, I can easily help Parelli students and my Stress-Free Horse students with the appropriate horse material.
My most deserving achievements are undoubtedly those of my horses.
Kenzo is the most versatile with experience in trekking, dressage, TREC, driving, horse riding, freedom dressage, and Parelli Level 4 in the 4 "Savvy's": On Line, Liberty, Freestyle and Finesse. Andes already shone on the film set as Sinterklaas' horse and also made the cover of the magazine as a knight's horse...