How do I tie my rope halter correctly?
A picture says more than a thousand words: you can clearly see here how to tie the knot correctly, and what it looks like when you tie your rope halter wrong.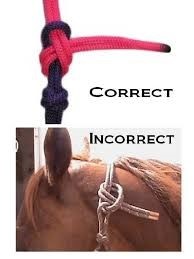 Watch the instruction video by former Parelli instructor Nathalie Lagasse here:
What is Parelli Natural Horsemanship?

Natural Horsemanship is not a separate discipline such as driving, dressage or jumping. It is in fact the basis, teaching a clear language. Through the Parelli programme, you learn how to train your horse properly, both on the ground and in the saddle or carriage. The result is a horse that remains calm in all circumstances, that likes to cooperate with you, is sensitive and light on the aids,... with as a result better performances - whatever they may be: in any equestrian discipline, competitive or recreational! With the Parelli method you teach your horse how to get on the trailer easily, how to stand still patiently at the farrier, but also how to calm down quickly when stressed, how to ride safely outside, etc. A nice by-product is that you build a real friendship relationship with your horse, you get a bond that is stronger than any lead rope.
How can you get started with Parelli?
Join the Parelli Savvy Club, and you can start watching videos online, as well as reading articles, listening to podcasts and participating in forums.
Taking lessons from an instructor will of course get you started even faster.
Since early 2010, Kim Moeyersoms is an official Parelli instructor, 3* which means she teaches On Line (ground work with the horse on a rope), Liberty (playing with your horse in liberty) and Freestyle (riding) and Finesse, individual or group lessons for max. 6 students at the same time.
You can also follow groundwork lessons with Kim with a horse (pony) from her herd, in that case the lesson takes place in Merendree. If you have your own horse, Kim can also teach on location.
What do you need?
Parelli aims to make the communication with your horse as effective as possible. The best way to achieve this is to use
- A Parelli rope halter in the right size.
- A carrot stick & savvy string
- A Parelli lead rope of 3.7 m (12ft Line)
As you progress in the Parelli programme, you will also start to play with your horse at longer distances, e.g. with a Parelli rope of about 6.7 m (22ft Line).
For ground work and daily use, Parelli equipment is not a miracle cure, but it contributes enormously to successful communication ( try it out in the shop). Look at it as a useful long-term investment, because you will enjoy it for years!
Feel free to ask for more information in the shop or take a look on Kim's website www.Paardenmanieren.be