A body protector, a close-fitting safety vest in the form of a bodywarmer, contributes enormously to the safety of the rider and the driver.
Body protectors: models & sizes
Body protectors come in various models: with or without a convenient front zip, multiple layers of memory foam on top of each other or composed of several small blocks.
It is important that the body protector fits nicely to your body. Buying a body protector " on growth" is therefore not a good idea. A body protector that is too big or too long will interfere with your movements on the horse and will not offer the same protection as a properly fitting one in the right size.
Even for young people it is worthwhile to buy a good quality body protector. There is no price for safety and if your body protector has become too small, another young horse lover can probably still use it.
A "classic" body protector is best worn just above a T-shirt or light jumper and then over the rest of your clothing. That way, under the influence of your body heat, the body protector will best fit the shape of your torso.
Come by the shop and the Alea team will be happy to advise you on finding the right body protector for you in the right size.
Body protector recommendations
For women, the Airowear Outlyne body protectors are highly recommended.
The new Airowear Outlyne body protector is specially designed for women of all shapes and sizes. The new technology makes this body protector very soft and flexible without having to use body heat. The Outlyne body protector has a very elegant design and features a zip for easy on and off and elastic Velcro closures on the sides to adjust the body protector perfectly. Of course, this body protector has the BETA level 3/EN 13158 approval.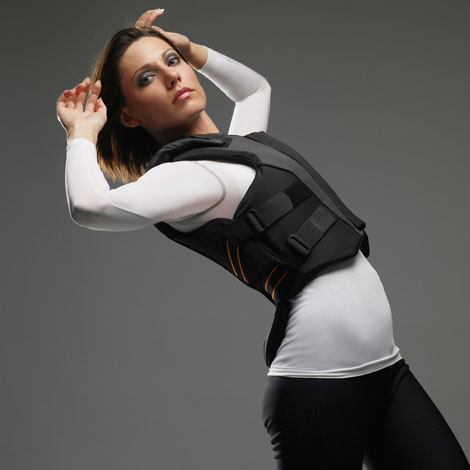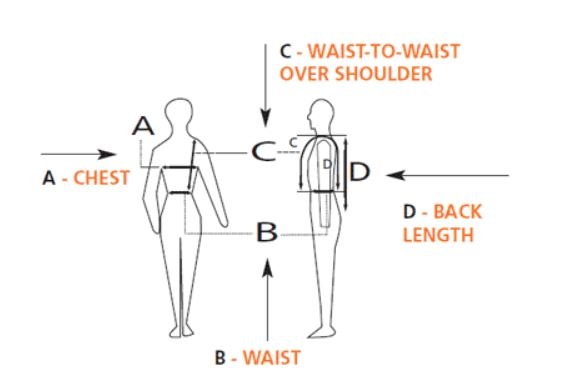 Why choose an Airowear Outlyne body protector?
Protection and comfort combined!
In accordance with the latest / highest safety standard BETA 2009 level 3 / EN 13158 lev 3
The difference between BETA and EN approved vests is that BETA obliges its members to annual retesting - an important quality guarantee!
On the inside, a heat-sensitive foam is used that completely adapts to the body. On the outside, a shock-absorbing foam is used to increase safety.
By using 4 thin layers of foam, the comfort is increased considerably and the adaptability becomes optimal.
After wearing the protector for a few minutes, you will no longer feel it.
Adjustable at the shoulder and in the loins with elastic Velcro.
Lightweight body protector.
Cover can be removed from the foam parts for washing.
Sizes
11 standard women sizes ( takes female shapes into account)
8 standard men's sizes (takes male shapes into account)
5 standard children sizes
All sizes are available in 3 standard back lengths.
Customization possible (delivery time 4 to 6 weeks).
It' ALWAYS possible to have a perfectly fitting body protector with an Airowear Outlyne - no other brand offers these possibilities.
We also recommend the Outlyne for children. With an Outlyne body protector, children are perfectly protected. After two years, you can still easily sell an Outlyne Youth for 50% of its original price. Supposing 160 Euros were paid, this would result in an investment of 80 Euros for two years of safe riding. Supposing you ride twice a week, the cost of safety per ride is 80 eurocents!

Size chart Outlyne Teens (the size between children & ladies)

Outlyne Youth / Children size chart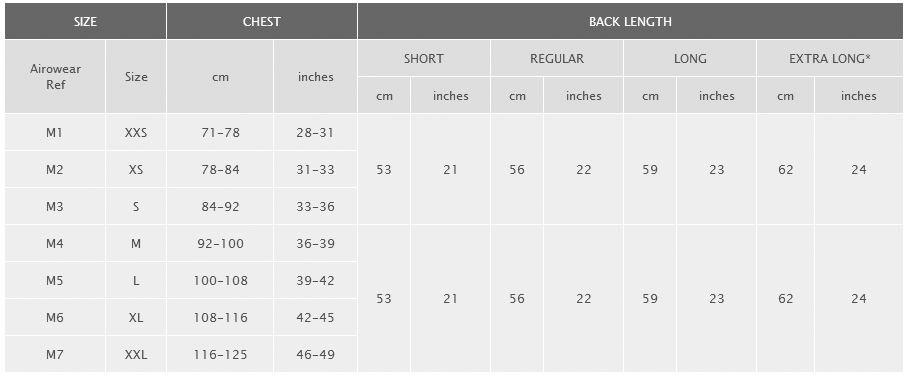 Want to go for a lighter version body protector that inflates automatically when you fall of your horse? Then we can definitely recommend the Hit-Air airbag vests. More info can be found in the article about the airbag vests.