Pat Parelli Masterclass in Belgium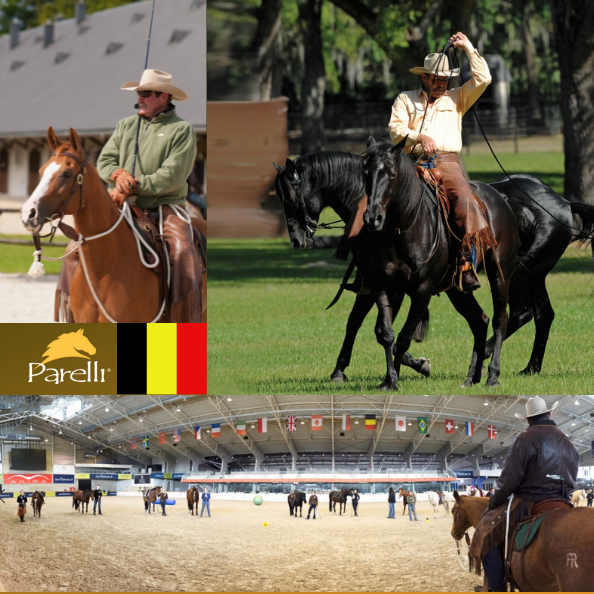 Pat Parelli invites you to increase your knowledge, communication and success with horses!
Pat Parelli's focus is on preserving real horsemanship and to help YOU become the person you have always wanted to be with your horse.
A master horseman with an uncanny ability to "read a horse", and knowing how to communicate, interact and respond within a split second changed the way we interact with horses today. Pat has the talent, knowledge, and the passion for teaching both horses and people.
Pat is an extraordinarily gifted teacher because of his ability to share what he's learned from the great masters in an interesting and creative way. He makes learning fun and helps people learn the "unteachable" such as feel, timing, and balance. As a modern master, Pat's work is nowhere near finished. He continues to innovate in new, more specialized directions such as performance and competition. He proves that love, language, and leadership can not only produce a top competitor, but it will also allow for continuous improvement of one.
Pat Parelli has been featured in over 1.000 magazine articles, and has presented privately for the Queen of England, President Reagan, Tony Robbins, Gene Autry, and Tom Selleck. Pat Parelli has over 200,000 students in his long distance, online learning program called the Savvy Club. With 250 instructors worldwide in his Licensed Professionals Program, Pat has set out to help make the world a better place for horses and the humans who love them.

Masterclass (Stoeterij Breemeersen, Aalter)
Accelerate your mental, emotional and physical potential in the presence of a modern master. Only a rare percentage of Parelli students get to study directly with Pat Parelli. If this is you, it is clear you are driven to explore everything you are passionate about in life, including your horsemanship.
Hold tight. You're in for an amazing ride.
A Pat Parelli MasterClass is as much an attitudinal and philosophical approach as it is technical. You'll explore Four Savvys, the Eight Principles of Horsemanship and the Ten Qualities of a Horseman.
It's an intensive, once-in-a lifetime experience that will sow seeds that continue to ripen for years and years to come.

Course topics: • Four Savvys – the basics and beyond • Purpose-driven horsemanship • Imagination • Puzzle-solving • Lightness of response • Developing 'feel' • Challenge course • Horse psychology and behavior

Course date:
From Friday September 9th to Sunday September 11th 2022
Venue:
Stoeterij de Breemeersen, Breemeersen 36, 9880 Aalter (near Ghent), Belgium 
The rider spots are limited, you can find more information and book your ticket here.
--- UPDATE --- RIDER SPOTS 
You can still register as a rider, but from now on it's possible to be placed on the waiting list. We will keep you informed because horses/riders can always drop out. If you are on the waiting list and cannot participate in September, we will refund the full amount.
Participating without a horse, as an auditor, is possible for the entire course or for 1 or 2 days of your choice. Book your auditor ticket here.
There is no extra Savvy Club member discount but until July 15, 2022 "Early Bird" prices apply and you can enjoy a discount on all tickets!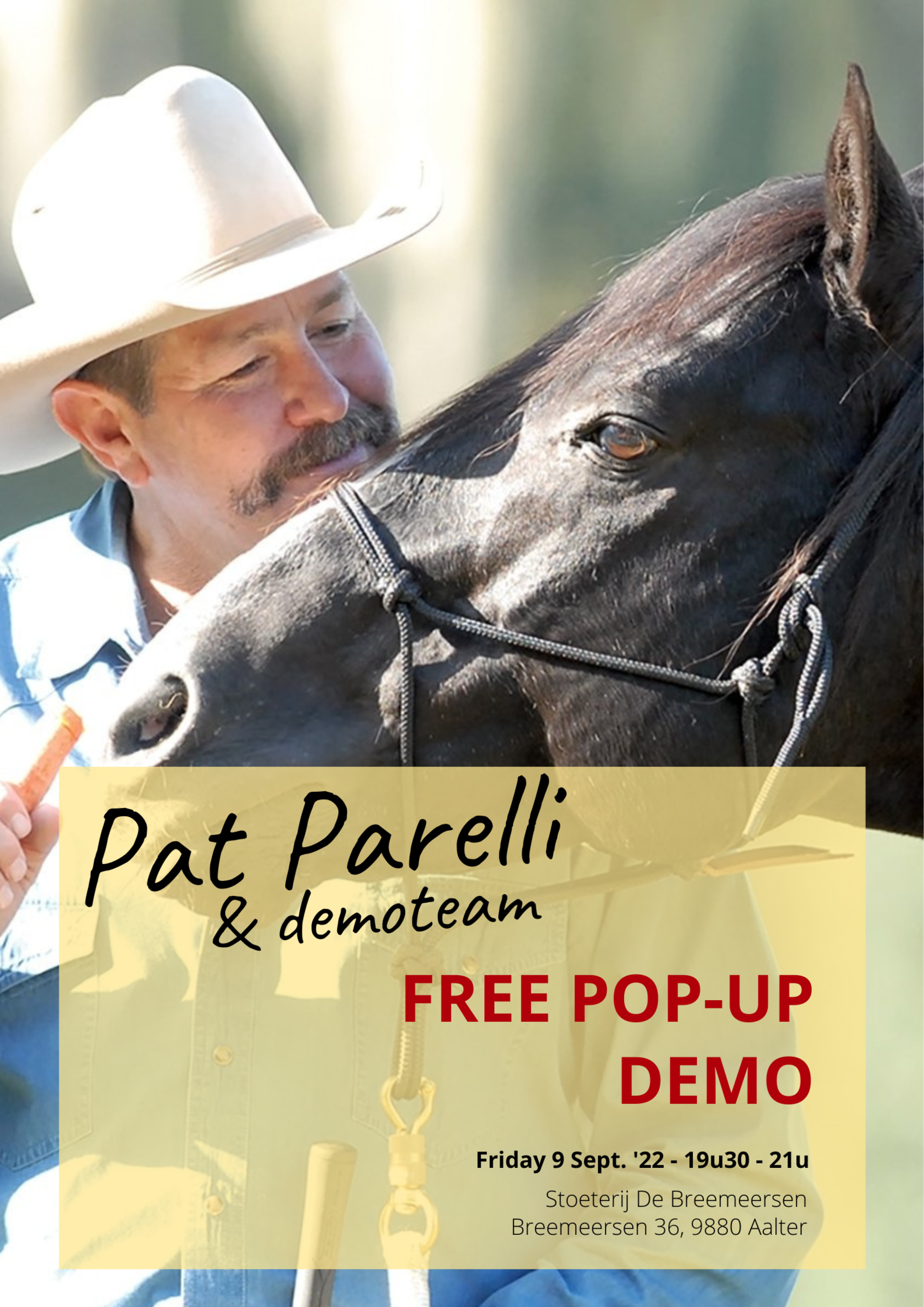 On Friday evening September 9, we organise a FREE demo evening with Pat Parelli.
Access to this Pop-up demo evening is FREE when you register via this link.

Start of the demo: 7.30 pm.
Arrival of spectators at the Breemeersen possible from 6 pm.
There is a food truck on site for those who want to eat Belgian fries :-) 

See you there!